Since the 2020 pandemic, remote working has been going nowhere. It compels businesses to transform to cloud-based, paperless technology to ace maximum productivity, collaboration, and data storage.
However, it's not easy for companies to go paperless in a blink of an eye. It means they must upload documents into a digital format – an uphill, costly task. In addition to eating up employees' time, manual data handling is prone to errors, leading to major revenue loss.
According to a published Xerox Study, 46% of survey respondents state that their significant time is wasted due to paper-intensive work". Despite this, only 50% of companies have started implementing digital documents in their processes.
For this reason, digitized documents are the trend now, and it seems like the trend will never end. Also termed as, Document Analysis, an integral part of computer vision, it is becoming an evolving research field.
McKinsey predicted a while ago that automation would wreak benefits for various industries unlocking additional billion dollars in value — Optical Character Recognition (OCR) is likely to play a major role in making this happen.
According to Transparency Market Research, OCR's global market is foreseen to grow at a CAGR of around 15% between 2020 to 2030.
OCR technology is an excellent solution for businesses going paperless and worthwhile to any document management system. Let's find out more about OCR!
Technology Behind Digital Documents: Optical Character Recognition (OCR)
Optical Character Recognition, simply known as OCR or text recognition, is a modern text conversion technology converting printed text or handwritten documents into digital formats with image processing techniques.
OCR technology became extremely popular in the early 90s when digitization of historical newspapers was at its peak. Since then, OCR has endured major improvements, delivering digital documents with near-perfect accuracy.
This is an in-depth guide on Optical Character Recognition. We will discuss what OCR is, how it works, and what other hidden roles it plays in your life. Moreover, what are the best applications and techniques for OCR? We'll also cover the advantages of OCR and explain paramount OCR use cases.
Enjoy your reading!
What is Optical Character Recognition (OCR)?
Simply put, OCR converts a text picture into the text itself.
Optical Character Recognition (OCR) recognizes text inside an image and converts that text into a machine-readable text format.
For example, if you scan any form or a receipt, you can't edit, search or count words in that scanned image. With OCR, you can convert images into a text format that is editable and searchable.
Natural language processing (NLP) algorithms further aid OCR in interpreting the text in a logical way. In addition to that, it translates text into multiple languages for easy understanding.
The goal is to reduce document searching fatigue, offering smooth document analysis. Text extraction tools like PDF to .txt converters and Google's image search function are a few examples of OCR.
Remember:
OCR doesn't understand the actual context or meaning behind the converted text. For instance, if you scan a word, it will recognize its letters but not the meaning of the word.
How Does OCR Work?
Typically computers detect and recognize text images, turning them into textual form afterwards. For this reason, it's often hard for computers to perceive characters written in different styles and fonts.
It gets even more complicated when text is handwritten. Nonetheless, OCR algorithms tackle this problem with a smooth process. Let's look at the process in turn!
Process of OCR
Here is a step-by-step breakdown of how OCR works:
The foremost step of the process involves optical scanners that scan documents. It cleans up the image and isolates the characters from everything else.
After scanning, it stores the image as a raster image or bitmap.
In the next step, OCR software refines the text by making it perfectly aligned and smoothing out its pixels — thus making the text clear and plain. Additionally, you can apply Image processing techniques to sharpen or brighten the images so that OCR programs can read the text perfectly.
After refining the image, next, we divide the text characters into similar, meaningful chunks. An image segmentation technique divides the whole text into black-and-white colors.
To make foreground text separate from the background, the black area is identified as characters while the white area is considered background — this supports optical character recognition.
At this point, OCR algorithms perform various manipulations to identify letters and numbers in black. Typically OCR leverage two approaches for optical character recognition: pattern recognition and feature detection.
Since OCR algorithms are prepared on versatile fonts, text formats, and handwriting styles, they can differentiate characters from scanned text. This approach allows OCR software to recognize the specific pattern of text.
It is also known as feature extraction or Intelligent character recognition (ICR). It spots the features of the whole text in a much more sophisticated way than we can imagine. For instance, it detects features and patterns like lines, closed loops, curves, line direction, and intersections. After that, OCR finds the best match for detected features among corresponding letters.
Typically, OCR outputs are in the form of a character string or a file. Once character recognition is done successfully, double-check its results. Even though no dedicated tools guarantee 100% accuracy, OCR software provides 98% – 99% accuracy. Moreover, poorly handwritten texts and weird text patterns can increase the error rate to 20%.
Usually, results are verified with OCR software's internal dictionary. You take the latest OCR result and compare it with the original version of the content.
There are two ways to measure the OCR's outputs:
It shows how many characters are accurately detected.
It tells how many words are identified correctly.
Some of the Best OCR Algorithms
MaskOCR
To date, MaskOCR is the only best & proven OCR algorithm — Based on ViT technology, with an impressive accuracy rate of 93.8%, MaskOCR is the most accurate among other OCR algorithms. This algorithm outperforms all others when it comes to accuracy benchmarks on data from either Chinese or English text images.
TransOCR
A simple and effective algorithm, TransOCR is the previous best algorithm on the Chinese BCTR dataset. It can be pre-trained with large-scale synthetic data and fine-tuned with human-labeled datasets.
Experiments proved that the TransOCR model could surpass the current state-of-the-art models on printed and handwritten text recognition tasks.
AI-based OCR Applications You Must Try
Let's assume you decide to use this technology. But which OCR applications or platforms are the best fit for your business? Well, we have prepared a list of suggestions for your ease.
Scroll down to decide on a legit OCR app for your business.
1. Abbyy FineReader
Average product rating – 4.5/5
Want to focus more on your expertise and less on administrative tasks? This app is certainly for you.
With 17,000 active users and 100 million downloads worldwide, Abby FineReader is the #01 PDF software according to users' ratings and reviews. Featuring ABBYY's latest AI-based OCR technology, FineReader PDF quickly digitizes, retrieves, edits, protects, shares, and collaborates on all documents in the digital workspace.
2. Nanonets OCR
Average product rating – 4.9/5
Whether you manage business finances, provide online delivery services or use software robots to perform repetitive tasks, power your business with Nanonets OCR. It reduces document processing time by up to 90% and saves on costs by up to 50%.
An AI-based software, Nanonets OCR is built to capture data for intelligent data processing receipts, invoices, ID cards, licenses, passports, and more. It securely captures, categorizes, and extracts unseen, unstructured documents or forms into structured data within seconds.
3. Kofax Omnipage Ultimate
Average product rating – 4.2/5
You can reduce the time spent digitizing huge files with Kofax Omnipage Ultimate.
It converts and makes your documents editable, searchable, and shareable with a seamless workflow. Omni Page Ultimate lowers your business operational costs and easily manages and shares documents.
4. Microsoft Lens
Average product rating – 4.6/5
This handy OCR app will easily fit into your workflow if you're already a Microsoft user.
Microsoft Lens, previously known as Microsoft Office Lens, converts images to Word, Powerpoint, PDF, or Excel and saves them to OneDrive, OneNote, or your local device. It lets you trim, enhance and edit documents, receipts, handwritten text, whiteboards, and even Gallery images.
This app ousts your efforts to jot down handwritten notes, rely on blurry phone images, or be worried about misplacing anything.
5. Adobe Acrobat DC
Average product rating – 4.6/5
You don't need to keep piles of paper or stuff your wallet with receipts. The free Adobe Scan mobile app works to scan your documents into PDFs and automatically recognizes text.
Powerful Artificial Intelligence behind Adobe Acrobat's intelligent features fixes image perspective and sharpens handwritten or printed text while removing elements you don't want, like glare and shadow.
6. Docparser
Average product rating – 4.8/5
Leveraging the advanced OCR and ML technology, you can make your manual data processing streamlined with Docparser.
Docparser is an app for modern cloud stack — it automatically fetches PDF files, Word docs, and scanned images from numerous sources for you. You can connect your cloud storage provider, such as Dropbox, Google Drive, and OneDrive, with its REST API. You can email your files as attachments or simply upload them with this fully secured app.
7. AWS Textract
Average product rating – 3.9/5
If you want to overcome manual and expensive processes, Textract is the right choice.
AWS textract goes beyond typical Optical Character Recognition and utilizes leading-edge Machine learning technology to identify, understand, and extract text, handwriting, and data within minutes. Moreover, besides extracting data, it returns a confidence score for everything it extracts so that you can make informed decisions about the results.
8. Text Scanner
Average product rating – 3.9/5
Digitize your knowledge with one of the best OCR engines. By translating the text into 100 languages, the Text scanner offers an accuracy rate of 98% – 100%. You can crop the image before OCR. Also, it allows multi-image scans. All scans are sorted in a folder and can be shared easily.
9. KlearStack
Average product rating – 4.0/5
KlearStack is an Intelligent Document Processing platform that pulls on state-of-the-art technologies like machine learning, computer vision, predictive analytics, and NLP. It automates 98% of manual processes and cuts down costs up to 70% with a more than 200% increase in productivity.
If you want to automate document extraction, like invoices and expense reports, take advantage of KlearStack. It processes your business payables, receivables, etc., at lightning speeds with lower cost and higher accuracy.
10. SwiftScan
Average product rating – 3.5/5
Want to create high-quality scans with both iOs and Android devices? SwiftScan can help you with it. One of the amazing features of this app is: it makes multiple decisions initially and then perfectly scan your document. It crops and straightens the document, further applying filters to make the final look better.
Besides being a document scanner, SwiftScan is the best tool for working with PDFs. No worries if you need to add notes to a document, sign it, or highlight important parts, SwiftScan does the job in no time. You can even remove pages, rearrange them or add some more.
11. Charli AI
Average product rating – 4.0/5
With built-in OCR, Charli AI helps your business to go paperless. This app unlocks more value from your document's content by leveraging state-of-the-art Artificial Intelligence.
It generates content-rich summaries and deep insights and automates the content process, thus reducing growth gaps for your business.
Charli AI offers its integration to 500+ apps, including ERP, CRM, and cloud-based systems. It's incredibly easy for you to send content to charlie anywhere.
12. Klippa — DocHorizon
Average product rating – 4.7/5
Klippa's smart OCR solution, powered by machine learning, lets you sort your unstructured data into a structured format in five seconds. You can submit your receipts, contracts, passports, and invoices through Klippa's mobile app, web app, and email. Moreover, you can integrate it with various software packages using its SDK or APIs.
13. Google Document AI
Average product rating – 4.0/5
Google Document AI manages the entire unstructured document lifecycle in one unified solution. It's an exclusive document solution suite offering pre-trained models to extract data, create custom models or uptrain existing ones. With this app, you can search and store your documents on the go.
With Google document AI, leverage your document's data to gain new insights about your products and meet customer expectations.
14. Pen to Print
Average product rating – 3.6/5
It's a perfect solution for those who still need a pen on paper and want to stay digital.
Deemed to be "the first handwriting-to-text OCR app," Pen to Print specifically scans, analyzes, and converts handwritten notes into digital text. — you can further edit, search and save the text on any cloud service or your local device.
15. Cameralyze
Average product rating – 4.5/5.
Although Cameralyze is a no-code AI and computer vision solution, it also offers text recognition services.
With cameralyze, you can create your text detection app from scratch. It offers unmatched speed and accuracy for scanning and transforming documents to digital. Here, Machine learning plays its part in automating the processes, recognizing text in multiple languages, and saving you money.
OCR technology has come a long way since its inception. Now, it has become AI-supported, and every business is leveraging its full potential to streamline its processes. In this part of our article, let's briefly examine where OCR can be used.
Top Optical Character Recognition (OCR) Use Cases in Every Industry
Here's a list of some industry's best use cases of OCR.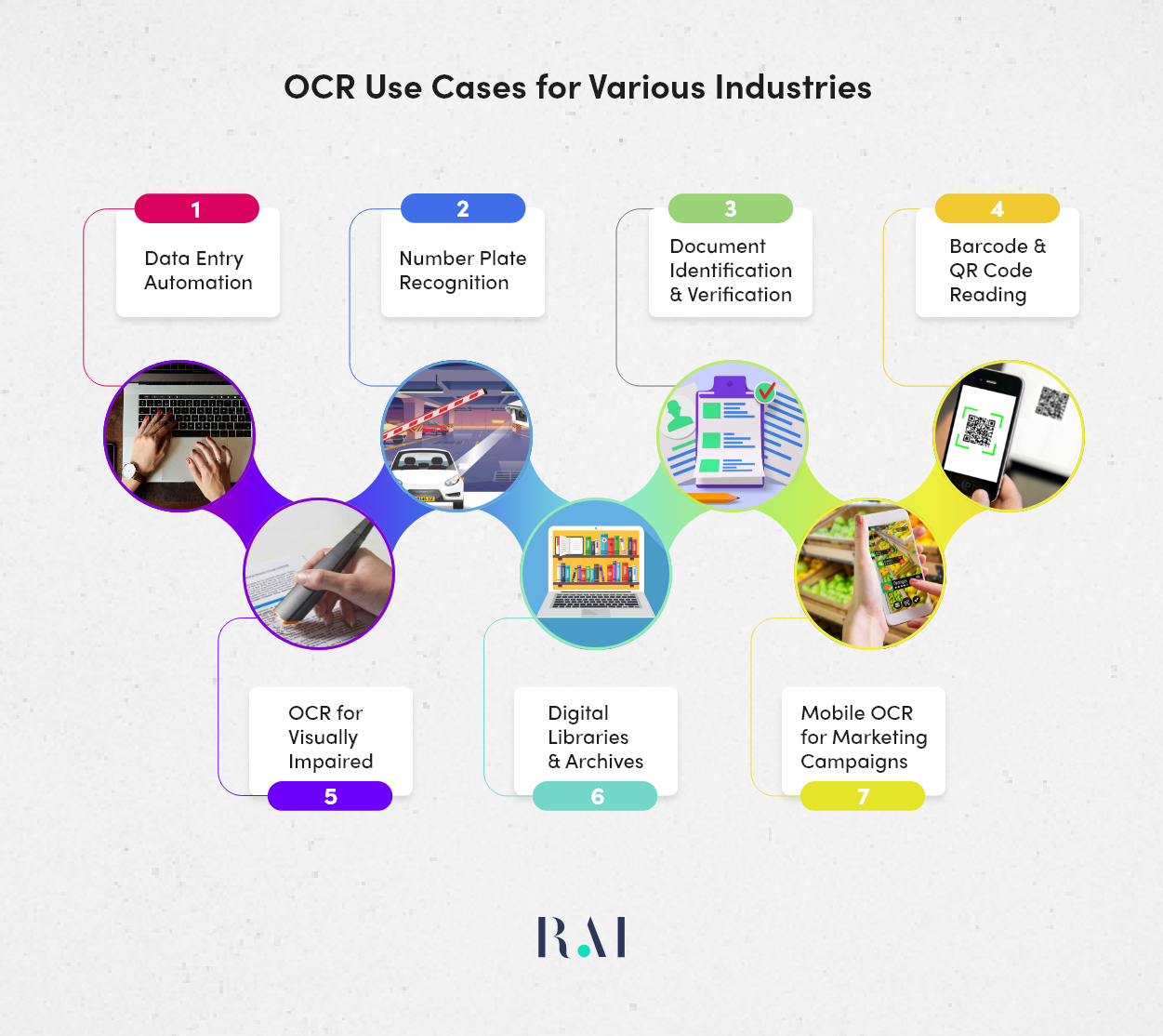 Today's business run on data — if your business has quick access to data, you are probably on the winning team. OCR works as a data scraper. It reads and scans documents for you. An automated data capture system in OCR eliminates manual data entry issues, making the data extraction processes hasty and smooth.
Imagine you live in a city that knows where every stolen or reported vehicles are. Well, that's possible with powerful OCR technology.
Number plate detection of vehicles allows you to gather more data about every passing vehicle around a checkpoint. Image processing techniques, for instance, MaskOCR algorithms, detect each character on a number plate, verify them and convert it into text. However, you need to train OCR algorithms to make OCR differentiate and detect each number plate easily.
Document Identification and Verification
OCR can simultaneously identify and verify passports, visas, customer records, loan applications, and other documents. OCR scans your documents via web and validates the information from the database, proving your documents are authentic.
Barcode and QR Code Reading
Scanning a barcode or QR code while shopping is quite a handy way to get product details instead of entering long-digit numbers. Barcode scanners and readers make use of OCR technology to display the information that lies within barcode.
OCR for Visually Impaired
With its data capture technology, OCR makes a remarkable difference for blind and visually impaired readers. The OCR system simply converts the text into an image of recognized characters and words. Further, these images are converted into useful audio or braille outputs so that visually impaired persons can also listen and understand that knowledge.
Digital Libraries and Archives
OCR helps create a searchable database of digital documents and books. It creates various categories to find the required book easily. These digitally created libraries also save books and crucial documents for perpetuity.
Mobile OCR for Marketing Campaigns
The perfect example of this would be vouchers and discount code scanning. Brands can offer customers to scan vouchers with smartphones instead of typing them. While making customers collect and scan vouchers an easy and simple thing, the big goal here is to increase customer engagement that, in return, boosts sales.
What are the Benefits of Optical Character Recognition?
While the transformation to a paperless system is on the top, OCR technology brings ample benefits for businesses. Let's know them in detail:
The OCR technology makes data "text searchable." You can search for a small piece of information effortlessly among massive datasets. Having instant access to data is a significant competitive advantage – you can, however, perform better If you know where to optimize and streamline business processes."." for
Now, you don't even need to type whole document again upon the slightest mistake or handwrite any document — OCR saves you time with a simple scan. It scans the paper document and converts it into an editable form so you can edit, change or delete the document info anytime.
OCR technology, comparatively, is a cheaper option. It requires no setting-up costs since it's easily available on smartphones in the form of apps.
Since paper documents can be damaged or lost easily, OCR has a backup of every document it scans. If you delete a document by mistake or lose it within the bulk of papers, OCR has its original, scanned version saved with it. Moreover, it keeps your documents from unauthorized access.
besides saving time, OCR proves itself a pure, reliable solution. It significantly reduces the risk of big or small errors while working manually. Automated data inputs with OCR ensure higher accuracy with minimal errors.
The key benefit of OCR technology is: it makes businesses paper-free and less cluttered. It transforms documents into digital, thus reducing the need for physical storage and bringing environmental benefits. Also, you can keep the digital document as long as you want.
Is there any Downside to OCR?
At its face, we know that OCR technology makes sense; meanwhile, it's crucial to understand its inherent limitations.
It's hard for OCR to extract data and fix errors from blurry or imperfect documents. Such use cases would compromise the quality of OCR's output.
Automated processes can be overdue, sometimes. In the case of OCR, it scans each text character separately and then converts it. The process can take time if you need to convert a large piece of document.
OCR makes mistakes often since every OCR solution doesn't offer 100% accuracy. For instance, OCR mistakes a lowercase "l" for "1". Such errors can be prone to severe issues, especially if it's a legal document. Furthermore, the format and fonts of the output document could be disturbed after scanning.
OCR software faces difficulty in detecting punctuation marks since they are too small and have a different shape from the text.
Unable to Recognize Languages
OCR can't detect right-to-left languages like Japanese, Chinese, Korean, Arabic, and Hebrew.
Optical Character Recognition: Key Takeaways
OCR, or text recognition, is not new, but its development with artificial intelligence support is.
AI-based OCR not only proves itself to be a promising technology but also has the potential to speed up your business processes. However, you need to consider its coupled challenges.
Besides automating business workflows, OCR helps the planet by reducing repeated hard copies of documents, thus saving paper.
Being a small business, a growing company, or an entrepreneur, you must do a lot with little time and resources. At this point, we at RevolveAI can help you with our reliable and agile Artificial Intelligence and Computer Vision Solutions – ultimately taking your business to the next level.